In the Spirit of November being National Career Development month, let's take a moment to reflect on Professional Development. As a small firm ourselves, SCB understands firsthand how important internal training and development is so that each and every team member can align on the goals of the organization and provide excellent service to every client.  
 In 2018, SCB was subcontracted by FirstNet to do just that – to work with the U.S. Department of Commerce and provide comprehensive training on Professional Development.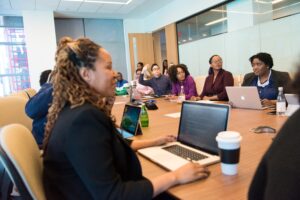 BACKGROUND
The project included the development and delivery of four courses to support the agency's goal of continually enhancing the performance of staff and leaders:   
      1. Business Communications
      2. Interpersonal Skills
      3. Presenting Strategically and Running Effective Meetings
      4. Effective Interviews
APPROACH
To begin, SCB sought to gain clarity on FirstNet's human capital objectives and any key challenges to be addressed in the content. For each course, SCB's Training Program Manager provided tailored content development and delivery of client requirements.
SCB was also tasked with:  
Identifying and conducting training analysis for supervisory staff

 

Developing and facilitating the FirstNet Supervisory Training courses to address the DOC training requirements

Developing course content and facilitating course delivery

Clarity on performance goals

Service level objectives

Communications controls with the Federal government

Implementing regular team meetings

 
RESULTS
At the conclusion of SCB's engagement, SCB met and/or exceeded the client's requirements. The DOC consistently gave SCB exceptional ratings, as well as the following customer testimonial from the prime contractor:  
"Over the last three years, I have had the opportunity to partner with SCB on a number of client projects. What SCB brings to every project has truly been unprecedented. They are a team player, dynamic leaders, and professionals in every sense of word. I know that when SCB is partnering with LinkVisum, we will be able to not only meet, but exceed, the client's needs."  
Looking to provide excellent Professional Development Training to your team? Contact SCB today to see how we can set you up for success! You can reach us directly at 443-598-6928, email [email protected], or 

fill out the form to contact us online
.