November is National Career Development Month! In honor of the occasion, here's the third case study in SCB's series on Professional Development:
From July 2017 to February 2018, SCB Management Consulting [SCB] was contracted with The Federal Occupational Health [FOH], a division of the U.S. Department of Health and Human Services [HHS] to provide an Executive Coaching Program. As specialists in Professional Development and Technical Training, System Implementation Management, and Business Process Improvement, SCB was more than qualified to lead this project.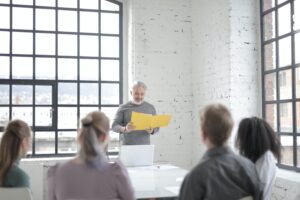 BACKGROUND
The Federal Occupational Health [FOH] is a division of the U.S. Department of Health and Human Services [HHS]. FOH Leadership recognized a need to invest in ongoing human capital professional development programs for staff and leaders, as well as executive coaching for the agency through Talent Management and Performance Management targeted programming. SCB Management Consulting (SCB) was engaged to develop and manage an Executive Coaching Program for FOH's senior leadership team (i.e., the Director and all Direct Reports).
APPROACH
SCB supervised and managed all functions awarded under the Executive Coaching Program contract including:
Selected the 360 feedback framework
Identified a pool of experienced executive coaching with federal government experience, from which each FOH leader selected their preferred coach
Arranged contracts with each executive coach, aligned with the project timeline and budget
Conducted Question and Answer (Q&A) briefings to explain the program
Facilitated the completion of the 360 feedback surveys by participants and their raters; followed up as necessary to ensure adequate completion required for the evaluation
Developed a coaching schedule for each participant; adjusted schedules as necessary to accommodate participant competing / unexpected priorities
Facilitated on-going check-ins with coaches and participants to confirm status and identify and resolve any issues (e.g., scheduling)
Reviewed and approved coach invoices
Facilitated bi-weekly project meetings with the project sponsor to review accomplishments, review milestones, and develop solutions for any emerging risks and issues
Provided monthly status reports and quarterly Contract Performance Briefings
RESULTS
Developed and coordinated the FOH Executive Coaching Initiative including facilitating a 360-degree feedback process, identifying and assigning coaches, measuring and reporting completion results with agency leadership.
100% of participants completed the executive coaching
Developed and facilitated Workforce Engagement presentations to the FOH Director and leadership
Consistently received exceptional ratings supporting HHS.
Looking to provide excellent Professional Development Training for your team? Contact SCB today to see how we can set you up for success! You can reach us directly at 443-598-6928, email [email protected], or 

fill out the form to contact us online
.