On January 15th of 2022, SCB Management Consulting (SCB) celebrated the start to our 6th year in business providing consulting services to the public and private sector in Baltimore City, Maryland State, and across the U.S.
Leveraging our Founder and President Stephanie Carter Bagley's 25 years of experience and expertise in finance, operations, project management, leadership, and best practices, we have had the pleasure of consistently providing strategic and tactical solutions for state and local governments since our inception back in 2016.
In Honor of the 6th Anniversary…
SCB is celebrated in a variety of ways. We reflected on our history and successes, we launched special 6th-anniversary branding, and we gave back to the Baltimore community, which has given so much to the team.
SCB MANAGEMENT CONSULTING'S HISTORY
As Transformation Specialists, SCB provides a full range of consulting services to assist government and private sector organizations in operationalizing visions, optimizing productivity and profitability, and maximize return on technology investments (ROI) that allow organizations to achieve their goals and objectives.
In the past 6 years, our team has worked on more than 10 federal government projects across 6 agencies and 12 state and local projects across 8 states, cities and quasi-government agencies. This has included:
U.S. Department of Transportation (DOT)
U.S. Department of Health and Human Services (HHS)
U.S. Department of Justice (DOJ)
Export-Import Bank of the United States (EXIM)
U.S. Army Medical Material Development Activity (USAMMDA)
WSSC Water
The City of Baltimore
Maryland Department of Transportation
St. Mary's College of Maryland
Hudson County Community College
For each of these clients, SCB has successfully designed and implemented tailored solutions in the areas of Strategic Planning, Business Process Reengineering, Change Management, Compliance and Risk Management, Professional Development Training, or other professional services.
SCB is an SBA-certified 8A and Woman Owned Small Business (WOSB), State of Maryland and Baltimore City-certified minority and woman-owned business (MBE/WBE), as well as a certified MBE/WBE in 19 additional cities and states.
SPECIAL 6TH ANNIVERSARY LOGO
For our 6th Anniversary, the SCB Team wanted to commemorate the occasion with a special-edition SCB logo. The logo was commissioned by SCB's Marketing Team and it celebrates our commitment to making transformation E.A.S.I.E.R. (Excellence, Assess, Strategize, Implement, Engage, Results).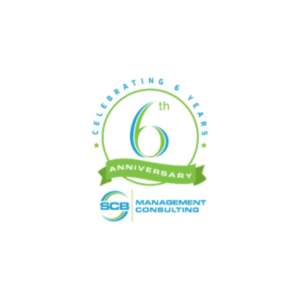 SCB also released a special video featuring our Founder and President – check it out to learn more about SCB's mission and services!
SCB MANAGEMENT CONSULTING GIVES BACK
SCB would not be able to celebrate our 6th anniversary without the support of the Baltimore Community. To acknowledge this, Founder and President Stephanie Carter Bagley, donated much-needed warm weather items to My Sister's Place Women's Center, a day shelter and resource center located in Baltimore City that serves women and children experiencing homelessness and poverty, and for whom Stephanie has enjoyed supporting before and throughout the pandemic. Stephanie had this message to share with the community:
"It is an honor to celebrate six years of growth and continuous success—particularly, with our anniversary falling on January 15, Dr. Martin Luther King, Jr's birthday. It is such an honor to stand on his shoulders and so many others who have paved the way for me and other people of color. Moreover, after spending 25 years in corporate leadership roles, including chairing great causes such as United Way campaigns, it is a great honor to continue giving back to my community under the SCB umbrella. One of my favorite quotes is that of Nelson Mandela's: 'There can be no greater gift than that of giving one's time and energy to helping others without expecting anything in return.'" – Stephanie Carter Bagley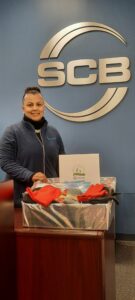 PHOTO CAPTION: SCB Founder and President Stephanie Carter Bagley preparing to make a donation to My Sister's Place Baltimore in honor of SCB's 6th Anniversary.
SCB Management Consulting could not be prouder of the past 6 years, and we are looking forward to all of the years to come.
Want to be part of SCB's journey? Connect with us today! We provide a full range of management consulting and project management services to private corporations, federal, state, and local government organizations, and small business owners. You can reach us directly at 443-598-6928, email [email protected], or fill out the form to contact us online.